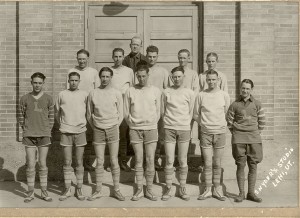 In the late 1800's, the students met in the attic of the old Central School, but as patrons demanded more structure and formality for their students in the secondary grades, Lehi High School was created in 1908. The mascot was originally the Wolverine and the school colors were blue and white. When a new grammar school was contstructed, Central School became exclusively a high school.
In 1912, the colors were changed from blue and white to purple and white, but it wasn't until 1925 that the mascot was changed to the Pelicans, because newspaper reporters in Salt Lake City felt a wolverine was too ferocious and violent to be a high school mascot. In 1934-35, the student body voted to change the mascot to a Pioneer, an image symbolic of Lehi's pioneer heritage.
In 1921, a new high school was constructed for $92,834 and was subsequently renovated to include an auditorium. Several additions came later including: a grandstand, auto mechanics shop, choral music/band room and office area. Student thrived as new and varied opportunities became available. Junior high and senior high students, together, attended the two story high school.
In the early 1950's, it became apparent that new high schools were needed to accommodate the growth in the area. Three high schools were planned for Alpine School District; one in Pleasant Grove, American Fork and Lehi. All schools were similar in architecture. The three schools opened in the fall of 1959. Lehi High School has undergone several renovations since its initial opening to accommodate the increase in student population and to meet seismic requirements.
Information from the article "Lehi High School Celebrates 100 Years" by Donna Barnes